Language training for companies
"Customized language training" has been our speciality for years. We study the needs of our clients carefully and arrange training programmes to ensure efficiency and effectiveness. We provide online,
stationary or hybrid training – partly stationary and partly remote.
Modern language training
We offer language training for companies, allowing employees to develop their language skills in a way that is effective and tailored to their professional needs. Our language training courses cover all levels, from beginner to advanced, and a variety of languages: English, German, French, Spanish, Italian, Polish for foreigners, and many more.
Our language teachers are specialists in their fields and have extensive experience in providing language training for companies. We cooperate with experienced Polish and native speaker teachers who have at least several years of experience and references. When you start working with us, you can see the diploma and references of the teacher.
We offer both individual and group classes. We tailor the training content to the needs of the particular company. Prior to the start of the course, we conduct a free competence audit and placement test, which are the basis in the preparation of the training programme.
Thanks to our language training, your employees will gain ease in communicating with foreign clients, expand their language skills and learn specialised terminology related to the industry. All this results in better company performance and greater competitiveness in the market.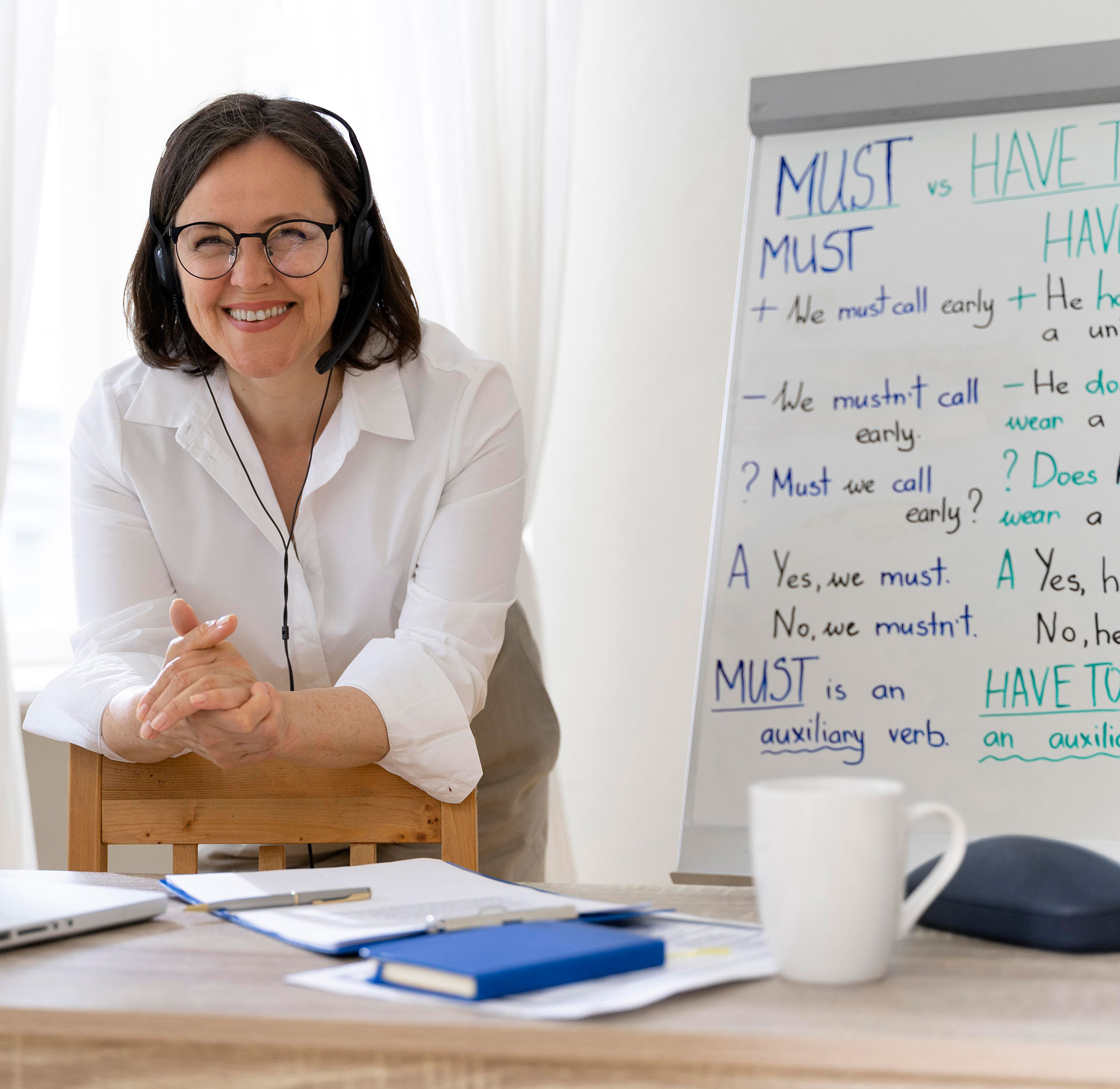 Online or stationary training
We provide stationary, online or hybrid training. The type of course depends on the needs and requirements of the client. For online classes, we use popular online platforms such as Zoom or Microsoft Teams.
In recent years, there has been a significant increase in interest in online training. Currently, this mode of learning is so developed and popular that online classes can be considered as equally effective way of learning as traditional face-to-face meetings.
An experienced teacher, using the right tools such as a virtual whiteboard and media sharing, is able to conduct online classes in an interesting and effective way, building relationships that make learning easy and enjoyable. It is also a matter of convenience: you can participate using your smartphone.
In the case of group training, we recommend a hybrid form – online and stationary classes, on agreed dates. We prepare the offer individually, so that it meets the needs and requirements of a client.

Training organisation – audit and placement test
Prior to the course, we offer a free competency audit. This makes it possible to divide the course into groups and to determine the training programme. The audit includes a standard Placement test and an individual interview with each participant to determine the level of language communication.
Placement test is a tool mainly used for employee (group) programmes. It is a lexical-grammatical test to rank participants according to their level of knowledge of vocabulary and grammatical structures.
Following the audit, we will make suggestions on the group division, the training programme and the selection of teaching aids.
Methodological supervision during training
Our methodologist ensures that the training programme is implemented correctly. If new curriculum needs arise during the course, we modify the programme to accommodate them.
Working with clients and reporting progress is made easy by our online Class Journals. This is an online programme that provides our clients with access to up-to-date, verified data on completed material, participant attendance and billing status.

We provide the ability to schedule classes on any days and times of your choice. If you need to cancel your scheduled classes, simply give us 1 day's notice.

Tests and examinations

The system of tests and examinations we have developed enables effective control and reporting on the implementation of the curriculum. The frequency and scope of tests are determined together with the client, depending on their needs and expectations.
We also study the level of participant satisfaction – through periodic surveys we obtain valuable feedback. Careful analysis of the surveys allows us to modify the individual elements of the training courses so that they meet the needs of the participants as closely as possible.
Post-training report
At the end of the course, we provide a final report including information on the material covered, the skills gained by the participants and suggestions for continuation of the training.
On client request, we prepare individual assessments for each participant according to the Common European Framework of Reference for Languages; each participant also receives a certificate confirming participation in the training.