Interpreting
Interpreting – consecutive and simultaneous. For several hundred participants at a specialised conference or when giving important visitors a tour of the factory, but also for one person at a notary's office. We offer a full range of interpreting services, including sworn ones.
Simultaneous interpretating
Simultaneous interpreting is a form of interpreting that involves translating the speaker's speech into the target language in real time. The interpreter provides live interpretation of the speech, which is heard through headphones or a sound system. Simultaneous interpreting is most commonly used at conferences, congresses and international meetings where participants speak different languages.
Simultaneous interpreting requires fluency in both languages and a high level of concentration, as the interpreter must listen to the speaker and translate his or her speech into the target language at the same time. Simultaneous interpreting also requires appropriate technical equipment, consisting of a sound system, booth, audio equipment, headphones and microphones or multiphones to ensure an effective interpretation for a large number of listeners.
As a rule, interpreters work in booths in teams of two.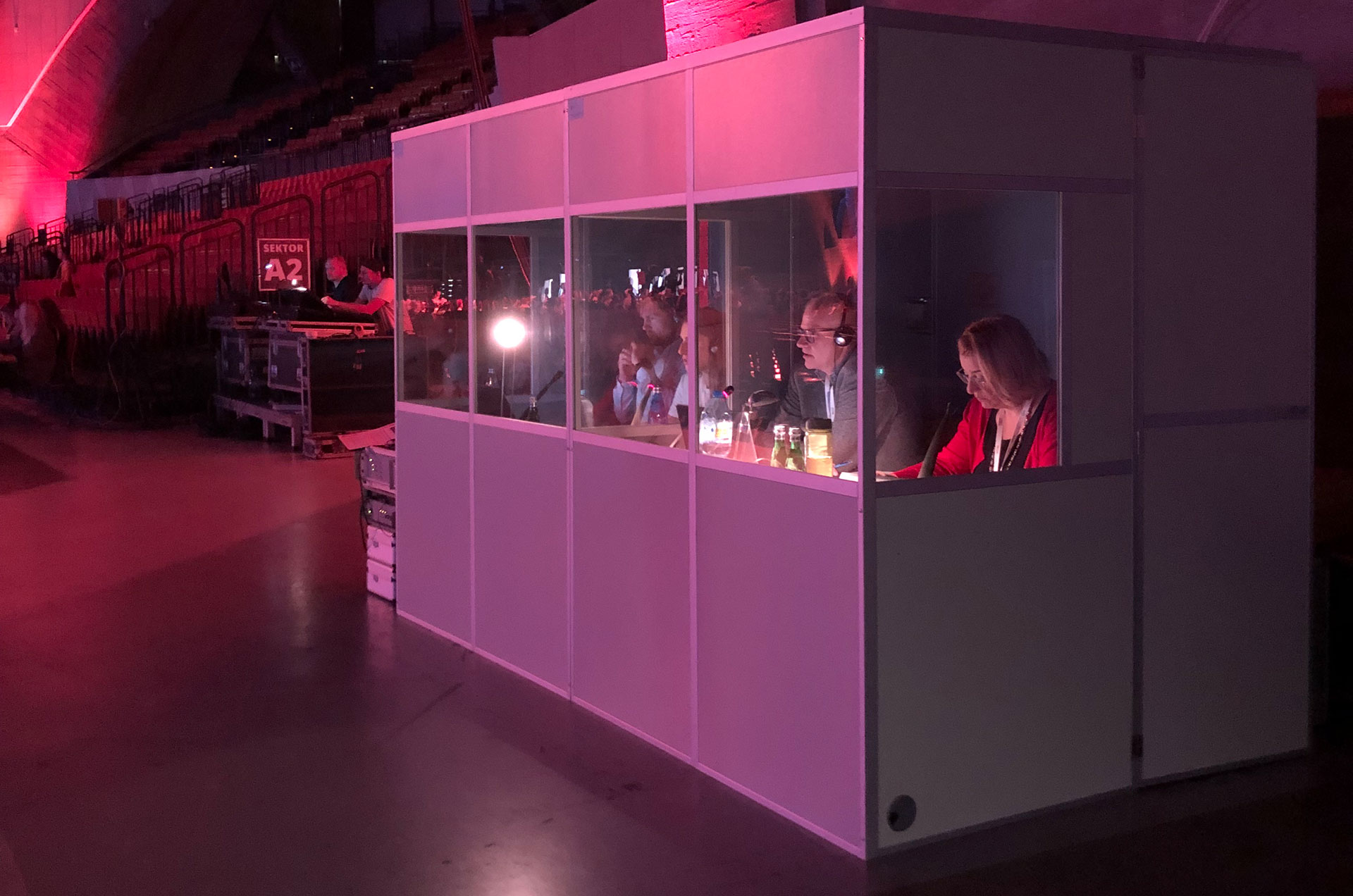 Consecutive interpreting
Consecutive interpreting involves translating consecutive parts of the speaker's speech in so-called "segments" or "blocks", which the interpreter translates into the target language. During the translation, a speaker interrupts his or her speech to give an interpreter time to translate the previous segment.
Consecutive interpreting is most often used during business meetings, conferences, trainings, study visits and other situations in which the interpreter has to translate the speeches of the participants of the live meeting. Consecutive interpreting requires fluency in both languages and a high level of concentration, as the interpreter must listen carefully to the speech in order to remember all of its content and then convey it accurately in the target language.
Whispered interpreting
"Whispering" is an interpretation that takes place when the interpreter sits next to a person who does not know the language and silently translates the most important information from the speech. Whispered interpreting is used in business talks or other situations where a small number of people are involved, but only one of them needs an interpreter.
Online interpreting
Online conference interpreting is a form of simultaneous interpreting. It takes place on a specially equipped platform during meetings or conferences conducted remotely. The most popular platforms for this type of interpreting are: Microsoft Teams, Zoom, WEBEX, and Skype. Interpreters work either in separate rooms or remotely and provide the interpretation live. More often hybrid mode solutions are being used, i.e. some of the event participants are in the conference room and some of the participants or speakers are in the online system.
Ad-hoc Interpreting
It is an interpretation carried out in emergency situations in which an interpreter is unexpectedly needed to translate a statement or text. Medical facilities, hospitals, police, border guards or other authorities often use this type of interpretation. Due to the official mode, sworn interpreters are called upon to provide this service.
We are happy to share our 25 years of experience with you
Choosing the most suitable type of interpretation and the coordination of events is always free of charge. We invite you to read the opinions of our clients.